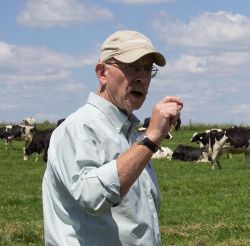 The USDA has issued its hay report card for 2017, and depending on your point of view, the results are either positive or negative. What is undeniable is that there were fewer bales to count.
December 1 hay stocks: In its January 12 Crop Production report, USDA pegged hay stocks (dry hay only) at 86.2 million tons, down 10 percent from one year ago. This was the first year-over-year decline in four years and the lowest hay stocks total since the drought year of 2012. Prior to that, you have to go back to 1958 for a lower December stocks tally.
Texas led the nation with a drop in stocks of 2.7 million tons, or 27 percent less than 2016. In the West, hay inventory declines were reported in Oregon (down 26.1 percent), Washington (down 23.3 percent), Arizona (down 21.7 percent), Idaho (down 15.4 percent), and Utah (down 4.2 percent). California, New Mexico, and Nevada matched their 2016 stock totals.
North Dakota, which was mired in a drought during 2016, experienced a drop in hay stocks of 28.7 percent. Many other Midwest states also had less hay in storage.
Some states that experienced dry weather in 2016 rebounded in 2017. Included in this group were Alabama (up 47.6 percent), Georgia (up 30.5 percent), Ohio (up 18.7 percent), Pennsylvania (up 9.1 percent), and New York (up 7.9 percent). Many New England states (except Vermont) boosted hay stocks as well.
Hay acres and yield: Producers harvested 53.8 acres of dry hay in 2017. That was actually slightly higher than 2016 but 663,000 acres less than 2015. Acres of alfalfa and alfalfa-grass mixtures dropped from 16.9 million in 2016 to 16.6 million in 2017.
States with the largest harvested alfalfa acreage declines included Montana (minus 200,000 acres), South Dakota (minus 200,000), Wisconsin (minus 140,000), Kansas (minus 130,000), and Minnesota (minus 130,000). California was down 60,000 acres. Iowa led gainers with 170,000 more alfalfa acres than 2016. No other state had over 80,000 more acres.
The additional harvested acres of all hay types in 2016 were offset by lower yields. Hay producers harvested 2.44 tons per acre during the past year compared to 2.52 tons per acre in 2016. At 3.32 tons per acre, alfalfa yields were down 0.13 ton per acre from 2016.
Hay production: The 2017 production of all dry hay types in the U.S. totaled 131.5 million tons, down 2.6 percent from 2016. Total alfalfa hay production declined by 5.5 percent to 55.1 million tons.
In some states, alfalfa hay production was cut significantly in 2017 compared to 2016. Included in this group are Kansas (down 958,000 tons), South Dakota (down 775,000 tons), Wisconsin (down 620,000 tons), and California (down 552,000 tons). Lower production was caused by acreage reductions, reduced yields, or a combination of both. Alfalfa production gainers were led by Colorado, New York, and Pennsylvania.
Finally, new seedings of alfalfa and alfalfa-grass mixtures totaled 2.21 million acres in 2017, the lowest total since records began in 1997.
Bottom line: Inventories of hay are down compared to recent years. Though not at a critical level, there is less buffer in 2018 should a major and widespread environmental disaster occur, most notably a drought. There's little reason to believe hay prices will weaken in 2018, though all hay markets are regional.
---
This article appeared in the February 2018 issue of Hay & Forage Grower on page 4.

Not a subscriber? Click to get the print magazine