Breed cows to match your forage resources
By Sydney Sleep, Editorial Intern
"The beef industry is on an unsustainable path because aggressively selecting for enhanced mature size, muscle, and milk potential isn't necessarily good for the commercial operation given typical forage resources," said David Lalman, Oklahoma State University extension beef cattle specialist.

Lalman feels that we need to do a better job of breeding cows to match forage resources found on most commercial cow/calf operations.

"There isn't any strong evidence that commercial cow efficiency has improved or worsened," said Lalman. "In commercial cow/calf operations during the last 10 years, there has been no substantial improvement in weaning weights or reproductive efficiency." He made these comments in a Great Plains Grazing webinar.

Lalman noted that the tons of grass hay produced per beef cow have increased in Oklahoma from about three-quarters ton per cow in the 1960s to 2 tons per cow today. Though several reasons come into play, it is clear that more harvested hay is being fed.

Today's beef cows are producing more milk as a result of being genetically selected for higher production. But more milk means enhanced year-long maintenance requirements.

Is there a limit in milk production that your forage can support?

"There is an increasing risk and frequency of cases where forage resources limit the expression of genetic potential for milk," Lalman noted. "Production costs have risen because the 'environment' has been artificially modified to fit the cows."

These modifications include reducing stocking rates, feeding hay earlier and longer, and providing additional feed supplements. These are done to keep reproductive efficiency from suffering on the commercial cow/calf operation.

The beef specialist suggested using the Angus breed's online Optimal Milk Module as a tool that gives a range of calculated milk Expected Progeny Differences (EPDs) for your operation. Available forage resources are included in calculating the EPDs.

In addition to more milk, cows are continuously getting heavier but not taller. Cattle producers are "aggressively selecting for muscle," according to Lalman. More muscle results in higher mature weights, less fat at the same live weight, and likely lower fertility.

There is found to be a positive genetic correlation between growth and feed intake. Improved feed intake and gut capacity, which also develop from breeding cattle for higher milk production, result in greater visceral organ mass relative to live body weight. The GI tract and liver make up less than 10 percent of a cow's body mass but use 40 to 50 percent of the total energy expenditure in a beef cow.

"Tough times don't last, but tough cows do," said Lalman.

To better match cows to forage resources in the future, Lalman shared some fundamental practices that can be put in place. He emphasized that it will take a long-term commitment.

1. Retain cows that are moderate in size, milk, and muscle. Avoid breeding for extremes.

2. Cull open cows by weeding out the ones that don't perform in your system. Let the cows tell you which ones fit the environment. Keep only early-born and early-bred heifers and buy or keep bulls out of cows that always calve early.

3. Find a source of seedstock that puts priority on Economically Relevant Traits (ERTs) related to fertility and forage use efficiency, culls open cows, and keeps only early-born and early-bred heifers.

4. Purchase bulls out of cows that are managed like yours or worse, have never missed a calf, and calve early.

Feed inputs and costs per cow/calf are growing, while limited data suggests that production is not. Old and new tools are available to aid in making selection decisions, which Lalman believes should become a priority if your cattle are to match typical commercial systems and resources.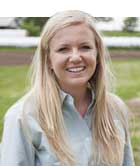 Sydney Sleep grew up on her family's Angus operation outside of Spearfish, S.D. She is currently attending South Dakota State University where she is pursuing a degree in agriculture communications. At college, Sleep is an ambassador for the SDSU College of Agriculture and Biological Sciences, is a member of Sigma Alpha professional agricultural sorority, and works as the communications assistant for the College of Agriculture and Biological Sciences. She is serving as the 2016 Hay & Forage Grower summer editorial intern.