The author is a freelance writer from Bozeman, Mont., and has her own communications business, Cowpunch Creative.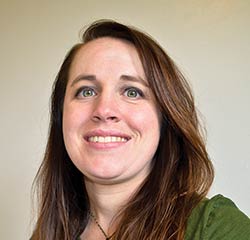 I
n late January, ranchers and rangeland researchers gathered together in Nevada for the Society for Range Management's (SRM) 71st Annual Meeting. Among the many sessions held was the Rancher to Rancher Symposium. This half-day session, organized by wildlife ecologist and ranching consultant Kent Reeves, highlighted some of the influential producers and projects part of the Rancher to Rancher (R2R) Network in California.
Founded by a coalition of ranchers and soil health and ecology experts, the R2R Network acts as a communication forum for California producers to share ideas with one another. The network was inspired and modeled after a similar program initiated by Graeme Hand and other holistic educators in Australia. In addition, the program is supported by the Regenerative Agriculture Foundation, 11th Hour Project, the TomKat Ranch Education Foundation, and Sallie Calhoun of the Paicines Ranch.
Listen to the land
What makes R2R different from other producer groups, Reeves said, is this network isn't just focused on idea sharing. R2R's facilitators also work diligently to promote the importance of listening, networking, and communicating.
"This is important because when we learn to listen to one another, we also learn how to listen to the land," said Reeves. "We're slowing down and really looking at how our soil and land functions. And, if we slow down enough to really hear one another, we might take that knowledge and apply it to other things."
Ranchers who participate in R2R create demonstration sites on their ranch to answer questions they have. These queries might range from how to enhance native grass populations on a particular site to what is the best management tactic to reduce an invasive weed or pest problem. As part of the network, participating ranchers host a learning day for their demonstration sites and invite neighboring producers.
"The idea of the learning day is to open up the discussion so that while you are learning yourself, you are also learning from others who get to see it and they might have a different perspective," said Reeves. "We come in not as the expert, but as a partner in the process."
At the start, Reeves noted R2R learning days functioned mainly as invitation-only events. This was done to help attendees feel more comfortable to ask questions and talk. Today, however, the discussion has opened up to include many other stakeholders.
During the R2R symposium at SRM's annual meeting, founding members of the program, including Joe Morris of Morris Grassfed Beef and Richard King of Poppy Hill Farm, shared about the history and development of R2R. In addition, lessons learned from demonstration sites, outreach, and data collected, as well as how that information can be practically applied to ranch management, were discussed.
Among the presenters was Jeffrey Mundell, ranch manager of Rancho Ciengaga del Gabilan in San Juan Batista, Calif. Mundell shared about his personal experience participating in the R2R Network and the benefits he's experienced since establishing learning sites on his operation.
"Rancher to Rancher has offered me the ability to experiment with different management schemes and see what is working over time," says Mundell. "I believe we still have a lot to learn here in California about the best way to manage for our social, environmental, and economic challenges."
The symposium ended with a "RancHer to RancHer" session, featuring a panel of women ranchers and moderated by Freestone Ranch grazing manager Ariel Greenwood. The women spoke sincerely about the joys and challenges of working on the land, relationships with family, and their involvement in community outreach efforts with urban communities.
"The RancHer to RancHer session allowed hardworking women in ranching to articulate the ways in which they've been held back by men and the ways that men's support matters," said Greenwood, who not only moderated but also participated in the panel. "I think it was the first time some men in the audience heard the specifics of those gender dynamics, and we got great feedback on it."
Plans to expand
Overall, Reeves said, "The workshop at SRM made my heart soar. People came to hear ranchers' stories. We had about 50 to 75 people throughout the session, and during the final hour we did a grounding circle with 20 people that included the original (founding) ranchers, essentially modeling what we do at the R2R days."
While still only open to California producers, Reeves and his partners in R2R hope to expand the network into new regions such as Nevada, Texas, and Hawaii. Currently, the next R2R learning day is scheduled for April 20th at the Rancho Jamul Ecological Reserve in San Diego County, Calif.
Going forward, Reeves and his counterparts plan to continue to search for ways to build upon, diversify, and grow the existing R2R Network.
"We want to keep helping ranchers better understand ecosystem processes and functions," said Reeves. "We'll always be trying to find ways to do that better and get more people involved."
While he knows their methods are slow, Reeves said, it's still one more rancher reached each time and that's what matters.
Learn more about the R2R Network and how to get involved at https://soilcarboncoalition.org/R2R/.
---
This article appeared in the April/May 2018 issue of Hay & Forage Grower on page 12.

Not a subscriber? Click to get the print magazine