The author is a forage extension specialist at the University of Idaho.
Several years of moderate winters have allowed meadow voles (Microtus pennsylvanicus) to reach crop-killing proportions in some areas of the West. Last spring I saw entire 135-acre pastures under pivot irrigation and good fall management — with more than a 4-inch stubble — destroyed. Voles ate the emerging tillers and also the roots. I have never seen any herd of livestock do that much damage from overgrazing, even from continuous stocking. Continuous stocking is one of the reasons meadow voles do so much damage, as they don't hibernate and can thrive under tall stubble and/or a soft snow cover.
I observed growing populations of voles in southern Idaho through the fall to the point that there is concern about losing a significant acreage of alfalfa and grass. Lawns and landscaping are also suffering from vole damage.
October was abnormally warm this year in the West, so alfalfa was actively growing. As a consequence, I suspect plant carbohydrate levels will be low for winter survival and early spring growth. Given low carbohydrate concentrations, plant disease exposure from feeding sites, and rapidly changing temperatures from unusually warm to sub-freezing, plants are at a high risk for damage.
I observed trial plots as well as commercial fields this fall. From a pickup truck view, it is obvious there are large areas of meadow vole colonies. We used a drone to get some aerial photos of a couple of fields, and I was amazed at the extent of damage. If we don't get bad weather with frozen soil and a thick ice layer, I don't think the alfalfa stands will be there in the spring. Late-summer alfalfa seedings also suffered from invasions of meadow voles and may not be viable in the spring. The photos show meadow vole colonies on a 25-acre field near Kimberly, Idaho.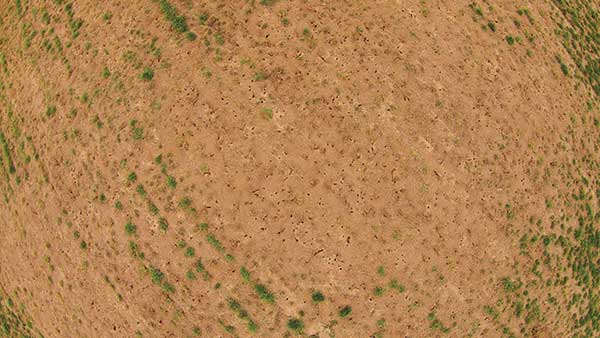 Control is difficult
Producers and crop advisers have been very frustrated in their attempts to control meadow voles. Although some states have toxins registered for vole control, the efficacy of toxins to mammals is generally not as effective as herbicides are on weeds. Rodents have evolved to sample food, and if it makes them ill, they will avoid it. Getting the meadow voles to eat a lethal dose of a toxin is a challenge.
Zinc phosphide toxins are activated by moisture inside the animal, resulting in the release of lethal phosphine gas inside the animal's digestive system.
Zinc phosphide should not be used when precipitation is expected. However, if a good dew, precipitation, or irrigation occurs before the rodents eat the zinc phosphide, the toxic portion has already been lost as a gas. Anticoagulant baits act more slowly and may require multiple feedings for adequate control. The University of Idaho extension team recommends alternating types of baits used in non-crop areas for vole control. Some producers made applications after each cutting, which is within the label. However, if alfalfa is lush and green, voles will probably avoid eating a toxic dose of zinc phosphide.
Use rodenticides according to the label. If the label doesn't list the target pest, location, crop and use, then it is illegal to apply and will not be very effective. Rodenticides will be most effective when the forage is dormant and weather conditions are conducive to consumption of the toxin. Bait stations constructed of PVC pipe will protect the moisture-sensitive baits and toxins.
Some baits are restricted-use pesticides, which require a pesticide applicator license. Other types can be purchased from farm supply, home and garden stores. All baits should be used with caution in areas where they are out of reach of children, pets and nontarget animals. Good target sites include vole runways, the mouths of burrows, or in enclosed bait stations, which are required for some baits. Many baits should only be applied directly underground in the vole holes.
Use multiple strategies
Use an integrated pest management strategy for optimum control of meadow voles, including cultural controls such as tillage and reduction of refuge areas. I normally don't recommend reduction of cover because pheasants, quail and beneficial insects also suffer from clean roadsides or ditches. However, I have observed barren areas in the desert grasslands neighboring fields where the voles have already reduced the good forages to small islands, leaving mostly weeds.
Promoting hawks, owls and other predators will also help control a rodent population that is not on a logarithmic part of the population growth curve. While raking some third-cutting hay, I counted about 50 hawks overhead. Once the vole population reaches logarithmic growth, they will overpopulate most control measures.
In addition to mowing ditches and clearing weeds and debris from vole-infested areas, the University of Idaho extension team's recommendations include proper use of zinc phosphide baits or others with anticoagulant chemicals, according to the label. The best recommendation to reduce the invasion of new seedings or crops is to leave a 30-foot border of bare ground. Voles don't like to cross an area that wide. This article appeared in the January 2016 issue of Hay & Forage Grower on page 22.
Not a subscriber? Click to get the print magazine.