The author is an extension forage specialist with the University of California-Davis.
What was once a minor curiosity has fully emerged as a major market for western U.S. hay products. Who could imagine a hay crop produced in Bakersfield would feed a cow in Beijing or Buraydah?
Alfalfa and grass hays are traditionally fed to animals very close to home and still are in most of the United States. However, over the past two decades, U.S. and world trade in hay products (primarily alfalfa and grass hay and cubes) has risen dramatically. This is due to advanced methods of mechanical handling and inexpensive international ocean freight rates, and limitations on production overseas. The value of U.S. alfalfa hay exports has tripled over 20 years, increasing from around $200 million to over $600 million per year. Combined, alfalfa and grass hay approximately doubled by 2017 to $1.4 billion ($1.2 billion corrected for inflation, see Figure 1).
The U.S. is not the only player. Over the past 16 years, the sum of world hay export trade quantities has approximately doubled, escalating at the average rate of about 266,000 MT (metric tons) per year. The strongest grown in export demand has been in Asia and the Middle East have buoyed this growth. The high quality of Western-grown alfalfa and grass hays has been especially attractive and in demand by foreign buyers.
However, the hay export market is not without controversy or difficulty. Technical issues with biotech-developed alfalfa varieties and problems associated with the 2018 trade conflicts between the U.S. and China have been especially problematic.
While alfalfa dominates hay markets in many countries, high-quality grass hays (timothy, sudangrass, bermudagrass, oat hay, and kleingrass) are very important; nearly 50 percent of U.S. exports are grasses. Australia's exports are almost all "oaten" grass hay.
Shifting markets
The major demand for imported forage crops is in Asia, led by Japan, China, and Korea, and followed by Middle Eastern countries (see Figure 2). These countries have expanded or improved their dairy and beef production and do not have adequate space or water resources for much good pasture or hay production.
An important development in the past decade has been the emergence of the Chinese and Middle Eastern markets, ballooning from negligible amounts in 2007 to millions of MT per year in 2017. This growth was driven primarily by rapid expansion of modern dairy farms in China and Korea, and limitations of water resources in Saudi Arabia and the United Arab Emirates (UAE).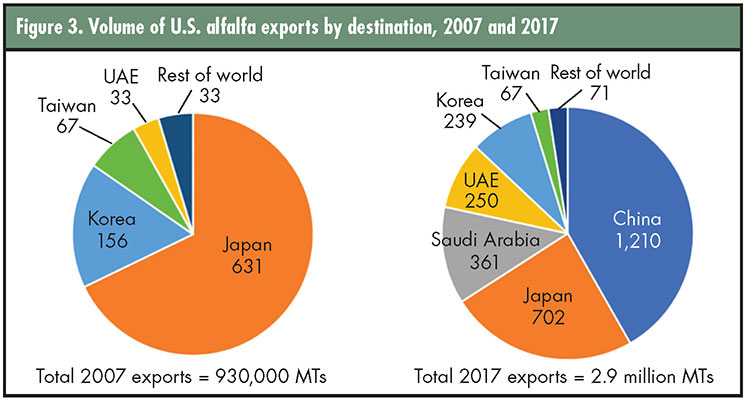 There have been major changes in the destination for exported U.S. hay over the past decade (see Figure 3). In 2007, about 85 percent of U.S. exports went to Japan and Korea. Over the past decade, China has become the largest importer of U.S. alfalfa, receiving over 40 percent of total U.S. alfalfa exports. Shipments to Japan and Korea have grown as well, but Korea has been surpassed by Saudi Arabia and the UAE.
Exports as a percentage of production have climbed but are still minor compared with many agricultural products. While the percentage of the national U.S. crop exported remains below 6 percent for alfalfa and below 3 percent for grass hays, the equivalent percentage of production exported from the seven Western states exceeded 17 percent for alfalfa and 41 percent for grass in 2017. This rapid rise in export demand has been welcomed by cash hay growers but is regarded as a negative by domestic dairy and other livestock hay buyers, who have had to compete for forage supplies with foreign buyers.
Trade turmoil
In response to U.S. trade actions, China implemented retaliatory tariffs of 25 percent in mid-2018, which has significantly impacted alfalfa exports. October 2018 hay exports to China were about 41 percent of those from April 2018 and 33 percent of the volume in April 2017. China had become the number one destination for U.S. alfalfa over the course of the last 10 years, growing from only 3,000 MT of imports in 2007 to over 1.2 million MT in 2017 (see Figure 3).
At this writing, the longer-term impacts of tariffs are uncertain. The negative effects of the tariffs could be mitigated if current negotiations between the U.S. and China are fruitful. One scenario is that exports could bounce back quickly. The alternative is that other suppliers could rise to meet this demand, as Chinese buyers diversify their supply portfolio given the uncertainty of U.S. and China policy.
There has been a tremendous expansion of Chinese dairies over the past 20 years, but since that country has important limitations for production of high-quality alfalfa, demand is likely to continue to be high for many years to come.
No GMO, please
Sensitivity to genetically engineered (GE) traits has been another important issue for exporters and growers for export markets, primarily for China. While some GE alfalfa has been exported to Japan and other countries, alfalfa exports to China must not contain a GE trait (primarily Roundup Ready), even in a very small amount.
Export companies in the U.S. routinely test export hay for low level presence (LLP) of the Roundup Ready trait and will reject hay with even a small amount of LLP (for example, 0.1 percent). This may change in the future if China approves these traits. Other countries either allow a trait to be imported (as with Japan), require a statement of "non-GMO," or do not routinely test.
Some importing companies reject GE hay due to the sensitivity of their customers who do not want GE traits even if they are permitted by import regulations. Recent discussions with U.S. Foreign Agricultural Service personnel indicate that approval of Roundup Ready trait for importation to China is a top priority, which would change the market sensitivity for Western alfalfa growers.
While exports of hay are a minor issue for many U.S. alfalfa and grass hay growers, they are a key market for growers in the seven Western-most states. Worldwide, interest in the trade in forages has also risen substantially, with the most important markets in Asia and the Middle East. The U.S. is the lead hay exporter, but a number of countries (Canada, Spain, Sudan, Italy, Australia, and Argentina) have shown growing interest in these markets.
Export markets demand high-quality forages, whether alfalfa or grass hay types, which favor exporting production regions with good haymaking weather, technology, and the infrastructure for long-distance shipping. Improvements in hay packaging, inexpensive ocean transport systems, resource limitations, and the imbalance of world trade (for example, empty returning cargo containers) have been major components driving this trend.
For a more detailed look at hay exports, see Putnam's blog post on the University of California Alfalfa and Forage News website:
https://ucanr.edu/blogs/Alfalfa
---
This article appeared in the March 2019 issue of Hay & Forage Grower on pages 30 and 31.
Not a subscriber? Click to get the print magazine.