Making high-quality hay in the extreme heat of summer is challenging as alfalfa often experiences delayed growth and moisture stress, even in moist soil.
High night temperatures create significant forage quality implications. "It can cause rapid respiration rates in alfalfa, burning off valuable nutrients that plants accumulated during the day," said Bruce Anderson, University of Nebraska-Lincoln extension forage specialist in Cropwatch, an extension newsletter.
As a result of extended hot conditions, alfalfa hay with fine stems that contain high protein, high fiber, and low relative forage quality (RFQ) are often produced. "If your hay tests low, blame the heat," stated Anderson.
Though plant growth may be slow, the speed at which alfalfa plants mature is another issue. In the heat, alfalfa can bloom early, beginning in under four weeks. This can be misleading if you use blooming as a harvest signal.
Anderson says that nutrients are broken down and used during respiration rather than being moved to the roots in high temperatures, so plants need more time than normal to rebuild nutrient reserves in the roots. "Watch the calendar and your plants to schedule the next cutting," the veteran forage specialist said.
Consider the time of day that you cut during high heat periods. Some research has shown that late afternoon cutting produces higher quality hay compared to morning cutting. "But, on good drying days, it still may be wiser to cut in the morning," said Anderson.
When cut hay retains greater than 50 percent moisture, plant cells continue to respire, therefore burning away valuable nutrients. If cut late in the day, hay loses yield and quality as a result of respiring all night; if cut early on a good drying day, plant cells can lose enough moisture to shut down respiration before nightfall.
"Both you and the weatherman must cooperate to get good hay, and even then there are no guarantees," Anderson stated.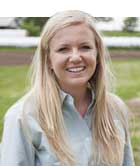 Sydney Sleep
Sydney Sleep grew up on her family's Angus operation outside of Spearfish, S.D. She is currently attending South Dakota State University where she is pursuing a degree in agriculture communications. At college, Sleep is an ambassador for the SDSU College of Agriculture and Biological Sciences, is a member of Sigma Alpha professional agricultural sorority, and works as the communications assistant for the College of Agriculture and Biological Sciences. She is serving as the 2016 Hay & Forage Grower summer editorial intern.