Photo by Dennis Hancock, UGA
"Since it first appeared in Georgia just six years ago, bermudagrass stem maggot has infested and damaged bermudagrass throughout the southeastern United States," said Dennis Hancock, University of Georgia extension forage agronomist.
Native to Central and Southeast Asia, bermudagrass stem maggot now affects the southern third to one-half of Georgia. However, Georgia isn't the only state that has fallen victim, as many southern states are experiencing varying degrees of infestation. "We're getting damage reports from multiple Texas counties," said Vanessa Corriher-Olson, Texas A&M AgriLife extension forage specialist.
The fly, which is yellow with a black head, lays its eggs on bermudagrass leaves. Once hatched, larvae move to the stem and begin their destruction, damaging vascular tissue around the first node from the top.
Discoloration of the top two to three leaves can be observed one to three days after the grass is infected, while the rest of the plant remains green. The top leaves eventually die. Shoots also stop elongating as a result of the stem damage. "In response, the plant may grow another shoot from a lower node of the damaged shoot," said Corriher-Olson in a recent edition of extension's Forage Fax.
The larva exits the stem between the time chlorosis is first observed to when the top leaves are entirely chlorotic. They then move to the soil, pupate for seven to 10 days, and then emerge as an adult fly. In as few as 10 to 12 days, this entire process occurs and begins again.
In Georgia, the damaging populations will often develop toward the middle stages of the second cutting. "It is likely impossible to fully eradicate the stem maggot, but the use of mechanical and/or chemical controls may suppress the population and prevent it from causing economic damage," Hancock said.
If signs of damage occur toward the end of a regrowth cycle, within two-and-a-half to three weeks after cutting or grazing, you should harvest or graze the field immediately. "If growing conditions are good, the loss seems to have minimal impact on dry matter yield; if forage production is limited by poor soil fertility and dry conditions, more damage can result," noted Corriher-Olson.
When a stand that is 6 inches or taller is damaged, Hancock stated that the only option is to cut and/or graze the stand to a height of 3 to 4 inches and encourage regrowth. Within hours of cutting, larvae will exit damaged stems and travel to the soil. "It is best to cut the field early and accept the loss rather than having a damaged crop that provides a haven for fly buildup," he shared. Infected material should be removed from the field.
The recommended chemical suppression technique is to apply an insecticide after the bermudagrass has begun regrowth, seven to 10 days after cutting. A second application can be made seven to 10 days later to suppress any flies that have emerged since the first application. This technique usually isn't necessary until after the second cutting.
According to Hancock, one application of insecticide seven to 10 days after the second and third cutting (and any subsequent cuttings) has kept the damage to below economically significant levels. "Producers are employing chemical suppression today with good success," he noted.
Georgia research has shown that the stem maggot prefers finer textured varieties to the coarser varieties. A study conducted in 2015 indicated that fine-textured varieties suffered about 35 to 65 percent yield loss, while coarse-textured varieties rarely suffered more than a 25 percent reduction.
Hancock noted that the degree to which the stem maggot overwinters in the southeastern U.S. remains unclear.
Consult your local extension office or agronomist for specific insecticide recommendations in your state.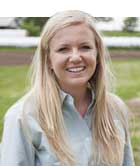 Sydney Sleep
Sydney Sleep grew up on her family's Angus operation outside of Spearfish, S.D. She is currently attending South Dakota State University where she is pursuing a degree in agriculture communications. At college, Sleep is an ambassador for the SDSU College of Agriculture and Biological Sciences, is a member of Sigma Alpha professional agricultural sorority, and works as the communications assistant for the College of Agriculture and Biological Sciences. She is serving as the 2016 Hay & Forage Grower summer editorial intern.