The question of whether to have a specific ratio of calcium (Ca) and magnesium (Mg) in the soil has been tossed around amongst agronomists for years.
But does the ratio really matter? And will it affect crop yield?
"You may ask these questions when you have your soil tested for nutrient levels or at the moment of lime purchase," says Kansas State University extension nutrient management specialist, Dorivar Ruiz-Diaz.
All soils contain Ca and Mg, which are plant-essential nutrients, in the form of cations that attach to soil clay and organic matter. These are the forms taken up by crops. The proportion of the nutrients and the total amount in the soil depends on the soil parent material. Soils typically have higher Ca levels than Mg.
"In Kansas, the levels of Ca and Mg are typically high, so crop deficiencies are rare," states Ruiz-Diaz in a Kansas State Agronomy eUpdate. So it is with many areas in the U.S. Occasional cases of Ca or Mg deficiencies may be found in areas with very sandy soils.
The theory that an "ideal soil" will have a balanced Ca, Mg, and potassium (K) ratio came about in the 1940s. According to the theory, fertilization should be based on the soil's needs rather than the crop's needs, focusing on the ratio of crop nutrients in the soil. It suggests that the ideal Ca:Mg ratio is between 3.5 and 6.0, but this has never proven to be significant.
Research studies that have been conducted in the laboratory and field show no effect of Ca:Mg ratio on crop yield. "Despite this, the promotion of the ratio concept persists today," notes Ruiz-Diaz.
The initial work that derived this concept did not differentiate between crop response (alfalfa) due to the change in Ca:Mg ratio and improvement in soil pH from lime application. Ruiz-Diaz states that it is reasonable to conclude that crop response can be expected from changes in soil pH rather than in the ratio of Ca:Mg.
Numerous studies conducted at various universities over the years have demonstrated that there is a lack of relationship between Ca:Mg ratio and crop yield.
"Trying to manage the ratio of Ca:Mg should not be used for a nutrient application or liming program, but focus should be on ensuring that levels of Ca and Mg in the soil will not limit optimum plant growth," says Ruiz-Diaz. Relative concentrations of Ca and Mg in commercial ag lime can be highly variable, so base application on the effective calcium carbonate (ECC) level needed to achieve a target soil pH.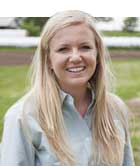 Sydney Sleep
Sydney Sleep grew up on her family's Angus operation outside of Spearfish, S.D. She is currently attending South Dakota State University where she is pursuing a degree in agriculture communications. At college, Sleep is an ambassador for the SDSU College of Agriculture and Biological Sciences, is a member of Sigma Alpha professional agricultural sorority, and works as the communications assistant for the College of Agriculture and Biological Sciences. She is serving as the 2016 Hay & Forage Grower summer editorial intern.