"Few farming operations invite as many different opportunities for injury or fatality as a silage program," said Keith Bolsen, Kansas State University animal science professor.
When it comes to working with silage, it can be easy to become complacent after doing the same thing every day and never experiencing an accident. However, an avalanche or collapsing silage face can happen without warning anytime, anywhere, and in any bunker silo or drive-over pile.
At the Silage for Beef Cattle Conference in Mead, Neb., Bolsen noted that it takes only a fraction of a second for part of a silage face to break off, causing deadly results for anyone who may be located beneath.
"The past few years, there have been numerous fatalities in the United States caused by avalanches," shared Bolsen. Some of these include an 11-year-old boy on a New Hampshire dairy, a 34-year-old truck driver on a New Mexico farm, a 53-year-old owner of a feedlot in Nebraska, and a 63-year-old employee on a Pennsylvania dairy.
Bolsen chronicled near accident stories that occurred from bunker or pile faces collapsing while feed was being extracted with a shaver. One story was about the death of a worker that occurred while he was taking forage samples.
"All three workers went to the face, pulled a sample, turned to walk away, and the pile just fell. Two people were hit from the back and knocked down. The other guy was walking toward the loader and the avalanche completely buried him," Bolsen related.
Bolsen expressed that you cannot stop avalanches from happening, but people being under them can be prevented. The guidelines below can lower the chances of a serious accident or fatality caused by a silage avalanche.
1. Never allow people to approach the feedout face.
2. Never stand closer to the silage face than three times its height.
3. Never work in or near a bunker or pile alone.
4. Do not fill bunker silos or drive-over piles higher than the unloading equipment can safely reach.
5. Use caution when removing plastic or oxygen-barrier film, tires, tire sidewalls, or gravel bags near the edge of the feedout face.
6. Do not remove surface-spoiled silage from bunkers and piles filled to an unsafe height.
7. Use proper unloading technique, including shaving silage on the feedout face.
8. Never dig the bucket into the bottom of a pile. Undercutting creates an overhang that can loosen and tumble.
9. Never drive the unloader parallel and close to the feedout face in an overfilled bunker or pile.
10. Take samples from a front-end loader bucket after it is moved a safe distance from the feedout face.
11. Never ride in a front-end loader bucket.
12. Never park vehicles or equipment near the feedout face.
13. Post a warning sign, "Danger! Silage Face Might Collapse," around the perimeter of bunker silos and drive-over piles.
14. Avoid being complacent! Always pay attention to your surroundings and never think that an avalanche cannot happen.
15. Develop safety policies and procedures for the silage program. Schedule meetings with all employees to discuss safety.
Bolsen and his wife have produced a DVD entitled Silage Safety. The 17-minute video was dedicated to Jason Leadingham, a silage haul-back driver who was killed January 2014 in a silage avalanche. Its content includes testimony of those who participated in recovery efforts and is filled with practical information on how to help prevent silage avalanche fatalities. It makes for an excellent employee training video. To obtain a free copy, contact Ruthie Bolsen (ruthbolsen@hotmail.com or 512-301-2281).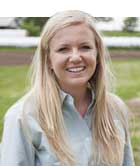 Sydney Sleep grew up on her family's Angus operation outside of Spearfish, S.D. She is currently attending South Dakota State University where she is pursuing a degree in agriculture communications. At college, Sleep is an ambassador for the SDSU College of Agriculture and Biological Sciences, is a member of Sigma Alpha professional agricultural sorority, and works as the communications assistant for the College of Agriculture and Biological Sciences. She is serving as the 2016 Hay & Forage Grower summer editorial intern.